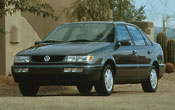 B4 Passat Technical Information
Note: This site consists of guides I have made and other information I have collected and put in PDF form.
Any files available for download (PDF, ZIP, etc.) are authored by other people and their name and the source of the document is listed in the file.
---
Repair & Maintenance
Replacing a VR6 Cam Position Sensor
Replacing the Cabin Air Filter
Changing Oil on a VR6
Seafoaming an Early Style VR6
Replacing VR6 CV Axle
Repairing a Loose Mirror Control Switch
B3 Heater Core Replacement Guide - Similar for B4 (PDF)
Radiator Removal & Replacement (PDF)
PCV Breather Repair (PDF)
VR6 Coolant Flushing Instructions (PDF)
Floppy Dash Vent Repair (PDF)
Mk3/B3/B4 Front Brake Replacement (PDF)
Mk3/B3/B4 Rear Brake Replacement (PDF)
Leaning Drivers Side Seat Fix (PDF)
Popping Sunroof Fix (ZIP)
Additional Brake Replacement Information (PDF)
VR6 Cooling System Repair Guide (PDF)
VR6 Water Pump Replacement & Belt Tensioner Greasing Guide (PDF)
VW TSB Regarding G12 Coolant Change (PDF)
Performance
Choosing & Installing VR6 Performance Chip (PDF)
Addons & Modifications
Euro Headlight Switch Installation
Factory Keyless Entry System
B3/B4/Mk3 Suspension Interchangeability
European Style Tail Light Replacement
B3/B4 Glow Gauges Installation (PDF)
B3 Hella Air Horn Installation - Similar for B4 (PDF)
Disabling Daytime Running Lights (PDF)
Hooking Up Rear Fog Lights - B4 (PDF)
Adding Fog Lights - B4 (PDF)
Extending Range of Mk3 Keyless Entry Systems (PDF)
Fog Light Relay Jumpers (PDF)
Seat Lip Retrofit (PDF)
Tinting B3 Rear Tail Lights (PDF)
Working Clear Corner Modification (PDF)
Home | Admin | About | Disclaimer | Contact